11 Jul

QT Newcastle Art Collection

Curatorial+Co. Art Consultancy X Nic Graham & Associates

Curatorial+Co. worked closely with the creative visionaries at Nic Graham & Associates to realise the phenomenal bespoke artwork collection for the inspirational new five-star hotel QT Newcastle.

Artwork: Tracey Lamb (left) Ryan Hoffman (right)
Working with seven incredible Australian artists, the outstanding collection has been curated by Curatorial+Co. to inspire all of QT Newcastle's guests (and staff!). From the epic Theresa Hunt seascape in the central restaurant area to Daniel O'Toole's captivating large scale moving image near the elevators; to Marion Borgelt's moon eclipse wall sculpture and Tracey Lamb's moon phase steel work in the rooftop bar; to Ryan Hoffman's concave hot pink universe piece in the lobby and Kate Banazi's Perspex series of stylised moon motifs in the restaurant, the collection is topped off with Susie Dureau's neon glowing seascapes on the wall and ceiling of the private dining room. Our senior art consultant, Claire Field, and director, Sophie Vander, encourage Newcastle locals and visitors alike to pop in and see this incredible space designed by Nic Graham & Associates.

Artwork: Marion Borgelt, courtesy Gallery Sally Dan-Cuthbert (left) and Kate Banazi (right)

Artwork: Susie Dureau (left) and Daniel O'Toole (right)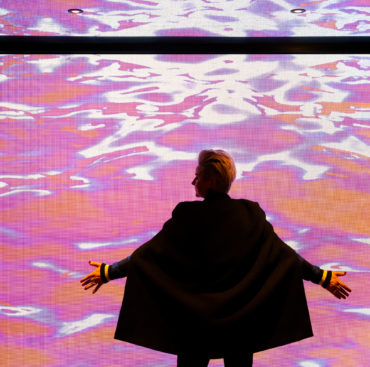 Curatorial+Co. Director Sophie Vander with Daniel O'Toole's work (left), and Ryan Hoffman + Daniel O'Toole (right)
Susie Dureau (left) and Marion Borgelt, courtesy of Gallery Sally Dan-Cuthbert (right)
You can visit the QT Newcastle now and see this wonderful curated collection in person.
Photos: Anne Graham + Nikki Easterbrook